Explore some of the custom Jeep Wrangler packages we've done below, and let us know how we can customize your Wrangler in Vermont!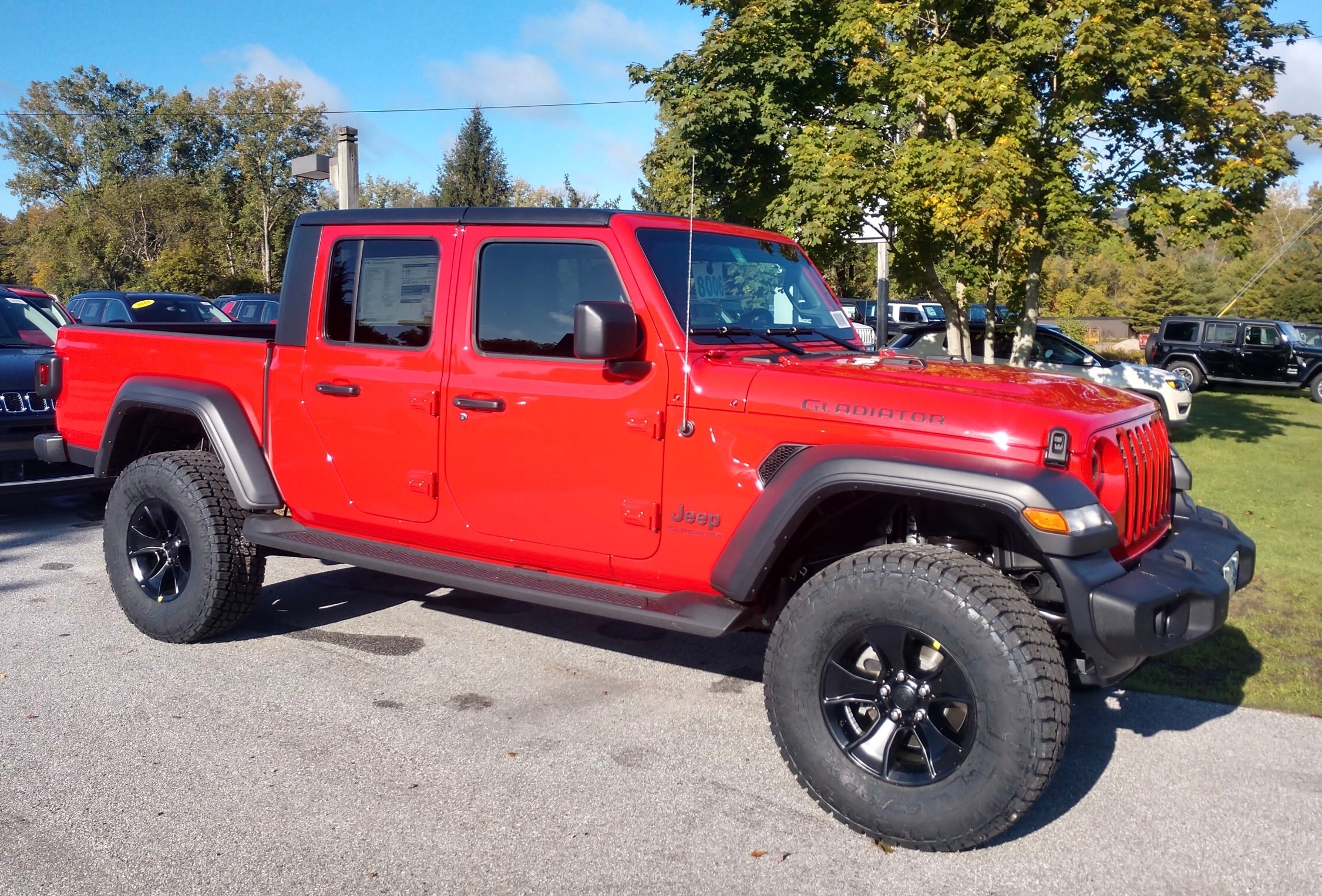 Built to take a beating and designed to excel in almost every kind of weather and terrain. Jeep wanted the Gladiator to transplant that same sort of all-terrain confidence into the truck market. Its engineers drew purposefully from the Wrangler's design to tap into its high standard of rugged ability.
The Long Trail is a Jeep Wrangler designed to stand out from the crowd. From its Gecko Green exterior to 35-inch Fierce Altitude Tires, this is not your average Jeep Wrangler. The Long Trail also features OR-Fab Crawler Front & Rear Bumpers for added practicality.
If you're interested in a Jeep that stands out in all the right ways, you'll want to see what this package has to offer.
The Grizzly is meant to invoke a striking design, and it does it well. With a 3.0-inch lift and aggressive tires, it'll take a lot to stop a Jeep Wrangler in the form of The Grizzly. The Grizzly is also outfitted with HELLA Lights and a light bar. That means you'll be able to see and be seen when you're on the road less traveled here in Vermont.
If you're after a Jeep that looks as aggressive and capable as it is, The Grizzly is likely for you. And we'd be happy to make it happen.
Simply put, the JK Apache will give your Jeep Wrangler a rugged look. From 33-inch Kelley Safari tires to the HELLA Light Bar, the JK Apache makes for a practical package. Other notable features include its dash-mounted clinometer and A.E.V 2.0-inch Lift Kit.
We believe this package pairs best with earth tone colors, and when you see it first-hand, you're sure to agree. Visit our dealership today and experience the JK Apache.
Light the way with The Renegade customized Jeep Wrangler. The Renegade package includes a variety of lighting upgrades including a MOPAR Bumper Light Bar and a KC Windshield Light Bar. With this package, you won't have to worry about getting stuck in the dark.
Other features include Bushwacker Side Moldings and MOPAR Splash Guard.
The JK Diablo lives up to its name with a bold red paint job. Featuring tough bumpers and rock rails, you'll be able to go where other vehicles can't in Killington, VT because this is a Jeep Wrangler dedicated to living off-road.
With a 2.5-inch lift the Jeep Wrangler outfitted with the JK Diablo package will give you command of the road.
Travel back to the origins of Jeep when you opt for the Willy's Rampage package. The Willy's Rampage package is filled with inspired design that harkens back to Jeep's rich past.
If you're looking for a Jeep Wrangler that isn't run-of-the-mill, this is the model for you.
With a 5.0-inch lift, the Stampede package is extreme from the first look. A DV8 Front Bumper and a long list of other upgrades, it'll be hard to stop this Jeep Wrangler from moving forward on the terrain in Middlebury, VT.
The Stampede is completed with custom graphics that are sure to bring you joy.
The Jeep Wrangler with The Scorpio package brings plenty of benefits with it, including a rock crawler rear bumper featuring an integrated hitch, along with a Rampage Off-Road Front Bumper give this package a fully elevated experience.
Featuring 35-inch All-Terrain Tires and a Rough Country lift kit, you'd be challenged to put this Jeep Wrangler in a situation that it couldn't handle. If you're interested in one of our more rugged packages, the Copperhead is for you.
Introducing our Newest Package: The Nor'east'r
Reach out to us to get the specifics on this custom Wrangler- built for the ultimate Vermont adventurer!
Looking for a Customized Jeep Wrangler in Vermont?
Jeep drivers of Rutland and Middlebury aren't like other drivers. They like to have a vehicle that reflects their personality, as well as one that delivers plenty of capability. When you opt for our available custom Jeep packages, you'll be able to enjoy just that - stand-out personality and next-level performance.
Each custom Jeep we offer is ready to take to area roads and trails with ease. Better yet, they'll look great while doing so, turning heads all over the Montpelier, VT and Manchester, VT roads.

Jeeps Built to Meet Your Needs
At Brileya's Chrysler Jeep, we staff a team of Jeep lovers. No matter what style you're looking for, it's likely that they can make your dreams come to life. With these head-turning, custom Jeep Wranglers, you'll be the envy of friends and fellow Jeep drivers alike. Wherever you're from in Vermont, be it the Castleton area or beyond, we encourage you to explore how our team can enhance your Jeep Wrangler experience. Most notably, how our chief designer, Erik Pearsons, can spearhead the effort to help you achieve the vision you have for your custom Jeep Wrangler.

Send Us Your Brix Performance Questions!
* Indicates a required field