Certified Pre-Owned Vehicles in Rutland - Impeccable Quality and Unbeatable Value
At Brileya's Chrysler Jeep, we're proud to be your local home in the greater Killington and Castleton area for topnotch cars, SUVs, and trucks from some of the most beloved and well-respected name brands in the automotive industry.
But we also understand that not every customer who visits us from the Montpelier, VT area is necessarily interested in purchasing a brand-new model. A lot of our customers prefer the value of saving by purchasing a pre-owned vehicle. If you fall into that category, you're in luck, because our inventory of currently available vehicles includes a large assortment of options that are pre-owned.
Best of all, many of our used vehicles are certified pre-owned, which means they come the added peace of mind of quality and a manufacturer warranty.
The Certified Pre-Owned Promise
When you shop for a vehicle that's labeled certified pre-owned, you're shopping for a vehicle that's in like-new condition. Each of the vehicles we certify at our Rutland dealership passes a strict set of criteria before it can even be considered for this program. This includes:
Each vehicle has to be from a fairly recent model year (five years or newer)
Each model is pre-owned, but in tiptop condition, with relatively low miles (under 75,000) on their odometers
Every certified pre-owned candidate vehicle has to have a clean ownership history, with no skeletons in its closet such as previous accidents or floods
Thorough Inspection
Once these vehicles pass this strict set of guidelines, we put them through their paces. A rigorous, 125-point inspection process comes next. Trained and certified professionals look at every inch of these vehicles to ensure they meet our high standards of quality. Any parts that don't meet expectations are then repaired or replaced using professional standards and genuine manufacturer parts.
Comprehensive Warranty
Ready to hear the best part of purchasing a certified pre-owned vehicle? Every one is backed by a lengthy warranty, similar to one you would get with a brand-new model.
Get the same sense of security and peace that comes with buying a new vehicle, for less money, with this guarantee of protection that will have your back for the long haul in case anything goes wrong with your vehicle. This impressive warranty includes:
100,000-mile powertrain limited warranty (or seven years from its original sale date as a new vehicle, whichever comes first)
Repair coverage for transmission, engine, driveline, and other major powertrain components
Extensive Inventory of Popular Models Available
Now that you've learned more about what our outstanding certified pre-owned program means for your Middlebury and Manchester, VT drives, it's time for the fun part - meeting our available vehicles and taking them for test drives.
We have a lengthy collection of potential models just waiting for you to take them home. Whether it's a large and roomy SUV you're looking for, or a stylish compact crossover, you can find all your favorite makes and models in this collection, with popular models available that include:
Jeep Cherokee compact SUVs
Jeep Grand Cherokee full-sized SUVs
Jeep Renegade subcompact crossovers
Jeep Wrangler convertible SUVs
Ram pickup trucks
Explore our full collection of currently available certified pre-owned models online to learn more and reach out to our sales team for up-to-date information on availability.
Brileya's Chrysler Jeep - A Full-Service Dealership for You
See everything a certified pre-owned vehicle can add to your daily commutes with our help. We're conveniently located on Route 7 and we look forward to helping you find the perfect new or used car, truck, or SUV to make all your driving dreams a reality.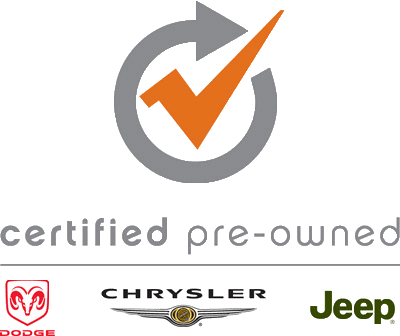 [ Click to Edit ]